Match your skills
Let us search jobs for you based on the skills and experience listed in your LinkedIn profile.
Job Match
Previously Viewed Jobs
No jobs have been viewed. See All Jobs
Begin A Career In Home Health Care With BAYADA
A career in home health care is a rewarding path, allowing you to make a real difference in people's lives every day. When you pursue a career with BAYADA, you join a nationally respected team that has been a leader in providing quality care and support inside the home since 1975.
As a BAYADA professional, you will take advantage of support, resources, and supervision to help you develop and grow your leadership potential. From your first day of orientation through ongoing training in best practices, new protocols, state-of-the-art technologies, safety, and communication, BAYADA will nurture your success and create opportunities for you to achieve your career goals.
We employ nearly 23,000 full-time and part-time clinical and non-clinical professionals. Choosing a career path with BAYADA will allow you to develop and use your skills in any one of our specialty practices, including, adult nursing, assistive care, pediatrics, habilitation, home health, or hospice. If you share our commitment to delivering the highest quality care and keeping clients safe at home, then join our team of compassionate professionals.
Take the next step and search immediate opportunities with BAYADA today!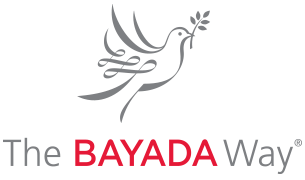 Who We Are
Since our founding in 1975, caring for our clients the right way has been at the heart of everything we do at BAYADA Home Health Care. In 2002, Founder and President Mark Baiada began a companywide initiative to define and express the company's mission, vision, beliefs, and values. We call it The BAYADA Way. It expresses our shared purpose of keeping people safe at home with comfort, independence, and dignity, as well as our commitment to our core values of compassion, excellence, and reliability. The BAYADA Way embodies the principles that have made us a leading provider of high-quality home health care services.
BAYADA Home Health Care

David Baiada
CEO

Approve of CEO 298 Ratings

4.3/5 Company Rating
Employee Reviews

Moved by the Mission
"The greatest thing about being a part of the BAYADA team is that I truly feel that we all live and work according to the mission. Our clients come first, our employees are treated with respect and consistently recognized and there is a limitless amount of support from everyone within the company. I feel blessed to be a part of this great company."
View All Reviews